Clove + Hallow
Shop the Clove + Hallow array of concealer & colour correctors, day creams, lip glosses & stains and other products. Remember to create a brand alert so that you hear about brand offers and discount codes.
5 products found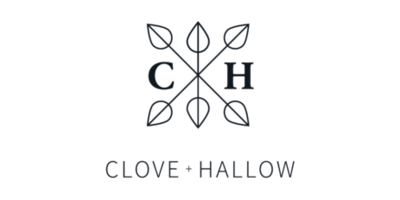 Sarah Biggers, the founder of Clove and Hallow, has undergone a remarkable journey that showcases the authenticity and credibility of the brand she so passionately promotes. Having suffered a debilitating illness, Sarah undertook a holistic medicinal approach which involved drastic changes to her diet and lifestyle. She realised that if her diet was so pivotal in her wellbeing, so is what she puts on her skin. With this realisation, Clove and Hallow came into existence.
The brand incorporates Sarah's holistic ideas into their extensive range of skincare products; there are no parabens, sulphates, phthalates or synthetic fragrances in any of their products. Instead, it's quite simply an oasis of natural, healthy energy.
Such is Clove and Hallow's dedication to purity in their products, they have a 'Clean 15 guarantee'. This pledge means that each product only contains 15 ingredients or less. There are no filler ingredients, just a simple blend of organic ingredients.
Frequently Asked Questions about Clove + Hallow
Do their product formulations contain Parabens?
Parabens do not feature in their ingredient list and so they are a paraben-free brand.
Do Clove + Hallow products contain animal products or by-products?
Clove + Hallow is vegan-friendly and does not use animal-derived ingredients or by-products in any of its product lines.
Is Clove + Hallow a cruelty-free brand?
Clove + Hallow are a cruelty-free brand. This means their manufacturing and testing processes are completely free from animal testing.
Is Clove + Hallow a phthalates-free brand?
Clove + Hallow are proud to create products that are completely free of phthalates.
Are these products fragrance-free?
Clove + Hallow products are produced without the use of synthetic fragrances.
Paraben Free
Vegan Friendly
Cruelty Free
Phthalates Free