Guide to Foot Cream
With our foot creams & lotions guide, you can find out everything you need to know before buying or using the product including should I use foot creams and do foot creams help with athlete's foot. If you're ready to buy or want to see our selection, visit our foot cream page.
Foot Cream FAQs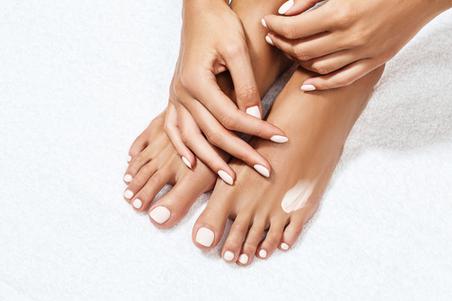 Should I use foot creams?
The simple answer is yes. Often feet are last on the list when it comes to your skincare routine. Make sure you don't neglect your tootsies and give them the much-needed attention they need all year round – not just in the summer months.
Foot creams and lotions not only help deeply nourish parched skin, but they also help rejuvenate, repair and mend any damage. Whether you suffer from cracked heels, calluses or itchy soles, it's time to invest in a nurturing foot treatment.
The best time to soothe and smooth your feet is after bathing in order to lock in any moisture. And why not treat yourself to a lovely, relaxing foot massage in the process?
Do foot creams help with athlete's foot?
When searching for a treatment for athlete's foot you can find effective over the counter creams and foot sprays. However, there are also specialised formulas which can help tackle other irritations and itchiness. If you are struggling with foot conditions, like athlete's foot, it is always best to check with your local GP or pharmacist about the best cause of action.
To avoid irritations and fungal infections in the future, it's crucial to practice good foot hygiene. This includes drying your feet after bathing, wearing clean socks every day, avoiding shoes that make your feet sweaty and don't walk around barefoot.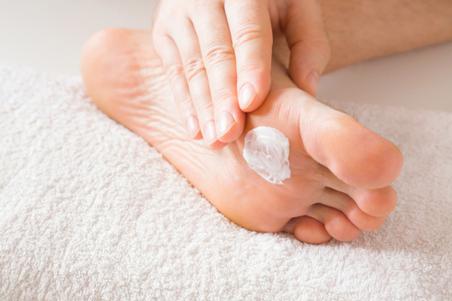 Will foot cream help dry and cracked feet?
The heels and soles of our feet are sadly prone to dryness, leading to cracked, irritated skin. However, the perfect solution is a nourishing foot lotion, cream, balm or treatment.
Not only will they help add a much-needed boost of hydration, but they can also prevent any future infections. Pamper yourself by massaging rich, creamy solutions into your feet after a bath. This will help prevent any dryness and keep them looking their tip top best
Here at Cosmetify, we have a wide range of products to keep your feet feeling fresh. A few of our favourites come from leading skin care brands such as Eucerin, O'Keeffe's and Weleda.
What ingredients should I look out for in foot creams?
When searching for a solution to dry, cracked feet or simply the perfect pamper moment, there are few ingredients which stand out. Jojoba oil, shea butter, urea and lanolin are all deeply hydrating ingredients which can help moisturise, heal and repair damaged feet. Other showstoppers include soothing essential oils, such as tea tree oil and peppermint oil.
If you have extra sensitive soles, we suggest finding a foot cream free from ingredients that could cause irritations such as added fragrance, parabens and sulphates.
So, no matter whether Winter has taken its toll on your toes or you need to get ready for your next holiday, keep a look out for foot lotions enriched with a plethora of fast-acting nourishing ingredients.