Eczema and Psoriasis Treatment Guide
By Ellie Child, Content Editor
With our eczema & psoriasis treatments guide, you can find out everything you need to know before buying or using the product including what is eczema and what is psoriasis. If you're ready to buy or want to see our selection, visit our eczema and psoriasis treatment page.
Eczema and Psoriasis Treatment FAQs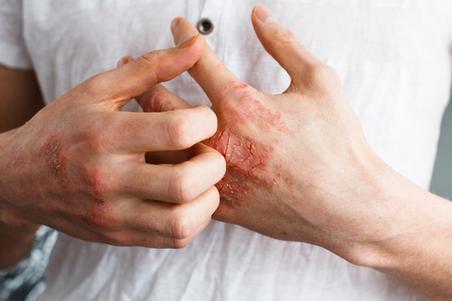 What is eczema?
Eczema can be recognised for its red, dry and flaky appearance on the skin. This common skin condition affects patches of the skin, causing them to become inflamed, itchy, red, cracked and rough.
Eczema can take many different forms and severities, but the most common 'type' of eczema is known as atopic dermatitis. Eczema can be quite common in babies and while some may outgrow the eczema from their childhood years, a lot will carry it through to their adult years. Some assume that eczema may be contagious as it is a topical condition, but rest assured it cannot be 'passed on' through touch.
What is psoriasis?
Psoriasis can affect anyone: even Kim Kardashian suffers with this particular skin condition! Like eczema, it is not contagious but can cause serious discomfort to the person suffering with this condition.
Taking the form of red, raised scaly patches of skin (known as plaques), psoriasis usually appears around the elbows, knees and scalp but can occur anywhere on the body. This skin condition can be organised into several categories: mild, moderate and severe. Mild psoriasis (the most common form) involves a few patches that can be easily controlled. Moderate psoriasis starts to affect more areas of the body whilst severe psoriasis covers larger areas of the body and can be incredibly hard to control.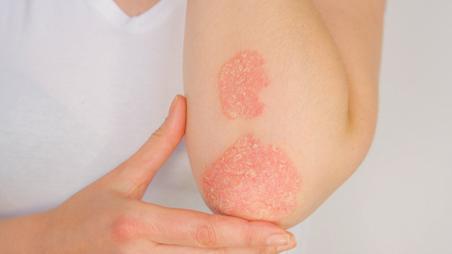 What does psoriasis look like and how do I know if I have it?
Usually, mild to moderate psoriasis can take the form of raised, thick scaly skin that boasts a red or pink colour. However, people have reported that it can appear as small flat bumps or larger, thicker plaques. People with mild to moderate psoriasis usually get flareups on the elbows, knees and scalp but it is important to note that it can appear anywhere on the body. Around 50% of sufferers have also reported some involvement of the nails.
If you recognise any of the above characteristics, consult your GP for a full diagnosis and recommendation for treatments.
What are some eczema causes?
When it comes to eczema, there are quite a few common causes that result in a flare up. These include irritants (disinfectants, soaps and detergents), allergens (dust mites, pollens and mould), hot and cold temperatures, perspiration through exercise, microbes, hormones, stress and foods – dairy, eggs and wheat being the main culprits.
More often than not, it can be a combination of the above, making it hard to control certain types of eczema. Women can also experience increased symptoms of eczema at times when their hormone levels are changing, for example around their periods or during pregnancy.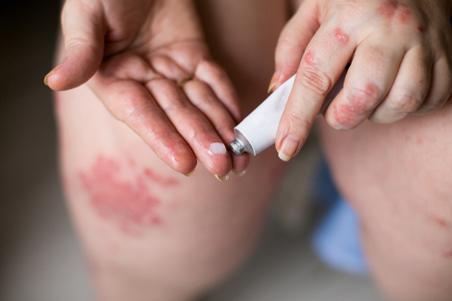 What are the best types of eczema treatments?
More often than not, doctors will prescribe some form of steroid cream such as hydrocortisone to alleviate the symptoms and provide comfort. These steroid creams can arrive in different strengths dependant on the severity of the eczema, but usually mild, over-the-counter treatments will be used first.
Alternatively, natural remedies may be able to treat some cases of eczema. Look out for solutions that banish the likes of skin care nasties to avoid aggravating an eczema flare up. SLS, SLES, parabens, phthalates, alcohol and synthetic fragrances are all skin care 'bad guys' that you should avoid if you suffer with eczema. Bonus points if you can find a hypoallergenic formula!
How do I get rid of psoriasis?
Usually, treatments for psoriasis are administered through GP's. While some natural creams may be able to alleviate symptoms, three types of treatment are often dispensed:
Topical: ointments and creams that can be applied directly to the skin
Phototherapy: exposing the affected area to certain types of ultraviolet light
Systemic: oral and injected medications
Again, your GP will know the correct treatment for your psoriasis and it is always best to consult a professional before applying any treatments.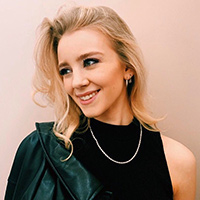 With five years' experience under her belt, Ellie has worked alongside a range of highly regarded makeup artists, giving her a real insight into what consumers should be spending their money on.