Top New Year's Eve Makeup Looks
By Hannah Prynn
-
11 months ago | Updated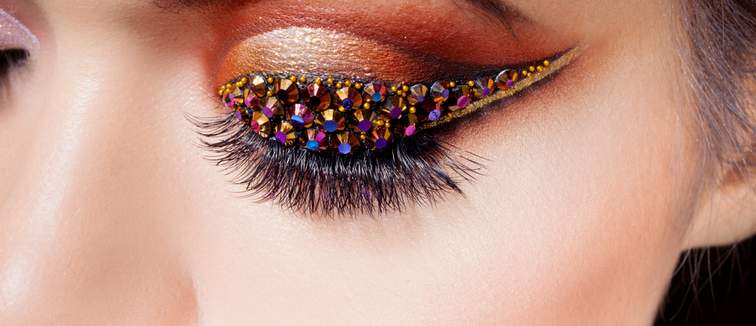 Grab your gowns and glitter, 2020 is right around the corner meaning it's time to get your party on.
It doesn't matter if you're bringing the New Year in at a plush party or sit-down dinner, New Year's Eve is the perfect excuse to get all glammed up.
And you're in luck, because we've rounded up some of the prettiest makeup looks to get yourself looking seriously glam this New Year's Eve.

1. Sultry smoke
Make your eyes the star of the show with this daring eye look. If sparkle isn't your thing, then why not try this dark, matte smoky eye. Paired with a light nude lip, this contrasting makeup look is a sexy style that will suit everyone.

2. Hollywood glam
This classic makeup look is a more understated approach to glamour. It features a bold red lip, which is the perfect shade to flaunt for the party season.
Cheap and cheerful, this luscious lipstick boasts a satin finish and a moisturising formula, which deeply nourishes the lips. The shade Gipsy Red is deep and wearable, complimenting all skin tones. It's a must-have in our makeup bags, for sure.

3. Sparkly nude
Nude doesn't have to be boring, and this gorgeous makeup look proves just that. The stunning rose gold colour theme features a glitter eye, fluttery lashes and a neutral lip, making the perfect girly glam.
Boasting an abundance of rosy pink hues and soft shimmers, this pretty palette contains every shade that you could possibly need to create an enchanting eye look.

4. Gold glitter
What's better then adding some sparkle to your makeup? This statement eye is giving us serious NYE party vibes. Complete with a dusky nude lip, this shimmering look will elevate any outfit.
Get the look with YSL's metallic eyeshadows. The easy-to-use liquid formula gives you a shimmery, pigmented finish. Shade 1 helps you to achieve a stunning gold eye in an instant.

5. Beautiful and bronzed
This neutral makeup comprises a soft, matte eye, a cat-eye flick and a glossy lip. The sun-kissed, bronze hues provide a delicate yet sophisticated finish that will compliment even the sparkliest of dresses.
This gorgeous gloss is all you need to create a juicy and full-looking pout. The shade Dahliana is a creamy nude shade that'll ensure your lips are looking top-notch for New Year's Eve.

6. Ruby red
If you love a pop of colour, then why not try a ruby-inspired makeup look for the new year? This lovely look features a dazzling eye, nude pink pout and a poppin' highlight. We'll certainly be painting our faces to create something similar – it's one of our favourites!
This two-toned eyeshadow stick contains a foil and glitter shade, perfect for achieving a variety of party looks. The lightweight formulas promise a long-lasting wear and a shimmery finish. Shop the Adelio shade to recreate these beautiful eyes.
So there you have it, a collection of our favourite makeup looks that you can try out for the New Year. See you in 2019!
Read More: How to apply eyeshadow.