The Best Lip Plumper That's Got Everyone Talking
By Ellen Roberts-James
-
1 year ago | Updated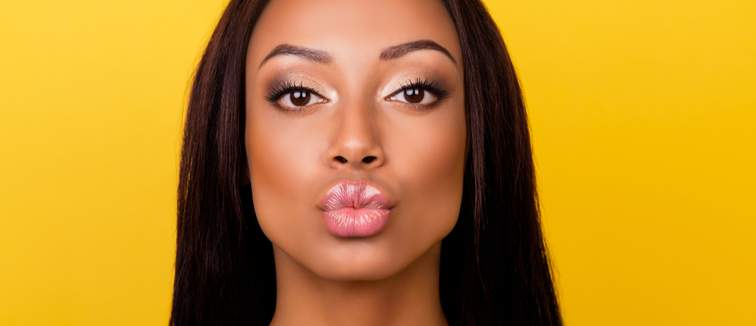 These days everyone is out to achieve fuller-looking lips, and the desire for that 'perfect pout' has only been amplified since Kylie Jenner's dramatic lip enhancement a few years back. Now everyone is jumping at the chance to get lip fillers for an instant lip boost: it has fast become one of the hottest beauty trends in the industry.
There are many innovative formulas on the market today, from plumping glosses to lip volumising treatments, that claim to give you similar results to cosmetic lip fillers. But, sadly, 90% of them turn out to be a complete fad.
In my experience, a lot of plumping glosses do nothing but leave a sticky residue on the lips, but that all changed when I received a lip volumising gloss from Gatineau Paris as a freebie in the post.
I initially thought it was just another average gloss, but, let me tell you, it is by far the best lip plumper that I've ever tried, due to its hydrating, plumping and skin-smoothing benefits (and I have tried and tested a few).
Gatineau DefiLift 3D Perfect Design Revolumising Lip Care is designed to give you luscious-looking lips in seconds, and I can say it does exactly that. First of all, it has a gorgeous, easy-to-use and glossy yet non-sticky texture that glides onto the lips with the smoothest application. The delicate scent of rose adds a subtle, feminine touch to the gloss, which doesn't taste too bad either!
I never thought I'd like this product as much as I do and I find it really does what it says on the tin. By reducing the appearance of fine lines and plumping skin texture it provides you with ravishing results to help you achieve that 'perfect pout'. I use this on a daily basis, both as a lip balm and priming base for lipstick application, as it leaves you with a soft canvas for your lip products to bind to. It also makes a lovely clear gloss just on its own that leaves lips feeling well-nourished and soft.
The fabulous formula is enriched with hyaluronic acid to stimulate cell plumping and lavender extract to soothe skin irritation, while shea butter supplies you with intense conditioning care.
This lip innovation works to give you a subtle yet volumising effect – and I know what you're thinking: what about the dreaded tingling sensation that comes with it? Although this lip treatment does give you a slight tingling effect, it only lasts a matter of seconds before wearing off – which is a huge tick in the box for someone like me, who has a pain threshold of about 0. After all, it's a sign that it's working!
Gatineau Paris have simply delivered the best, non-invasive lip product for lip augmentation. This lip care revelation has undoubtedly become a beauty staple in my routine, as you can achieve a temporary, voluminous effect without the need for cosmetic fillers!
I have always considered lip injections myself, but since discovering this pout perfecter I won't be booking in for a lip enhancement anytime soon, that's for sure. Pain-free and guilt-free plumping is the way forward, wouldn't you agree?
Related Categories