Payday Pamper Picks: September 2020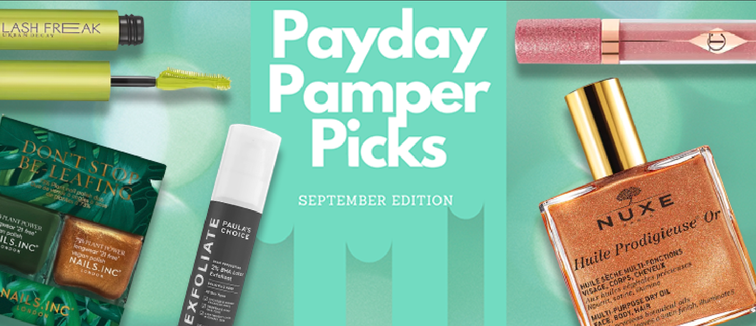 Some of these products are independently selected by our editors, whilst others are paid for content. If you buy something, we may earn an affiliate commission.
The beauty industry is exploding with new and exciting releases, despite Covid's best efforts in stopping the world in its tracks. From never-before-seen skin care ingredients to glitzy, new packaging, brands have us reaching for our purses and splurging the cash on their latest inventions.
But, with so much choice offered up to us on a platter, narrowing down your options can be quite daunting. Luckily, we've made it our mission to try out the latest releases, as well as some of our all-time favourites in order to collate the ultimate payday pamper list.
And, it gets better. You can even win the whole lot for yourself by entering our competition at the end!

Nails Inc Don't Stop Be-Leafing Plant Based Vegan Nail Polish Duo
We tried to name a more iconic duo than this Nails Inc set, but honestly, the colours work together so well that even Beyonce and Jay-Z would be envious. Ideal for the autumn months, this all-vegan, cruelty-free formula wears beautifully for days on end without chipping whilst boasting a lust-worthy shine. And as for the shimmer shade, don't even get us started. We never knew it was possible to become this obsessed with a nail varnish colour.
Want to make the most out of your new look? Try the NailKale Superfood Base Coat to strengthen your nails and prevent staining. Head on over to Nails Inc for all of the other envy-inducing colours featured.
Price: £15.00 from Nails Inc
Go To Store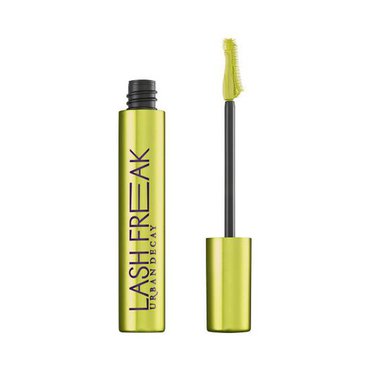 Urban Decay Lash Freak Mascara
You're going love this mascara wand, trust us. We know that a lot of mascaras claim to lengthen, strengthen and add volume to your lashes, and one too many times we've fallen victim to this marketing ploy. However, we can confidently say that we've finally found the Holy Grail of all mascaras – one that actually does what it says on the packaging.
It's time to throw out the strip lashes and adhesive glue, as the Urban Decay Lash Freak Mascara is soon to become your go-to product for acquiring that elongated, false-lash effect. The mascara contains an innovative, multifaceted brush that coats, lifts and volumises your lashes for a fan-like effect that separates each individual lash whilst coating it in a long-wearing, pigmented formula.
Price: £21.00 from Urban Decay
Go To Store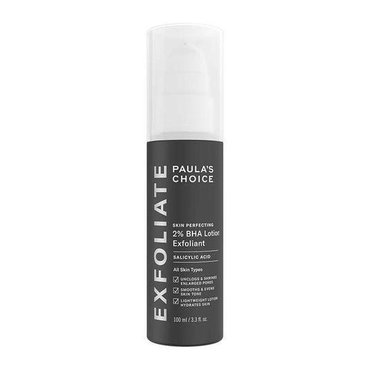 Paula's Choice Skin Perfecting 2% BHA Lotion Exfoliant
Most brands have pretty much waved goodbye to beaded scrubs, and the rise of exfoliating acids has become a much better alternative for both the environment and our skin.
If the word 'acid' sends your mind into a frenzy, then it's best to start off with the basics – and who better to introduce you to the world of acids than the skin experts behind Paula's Choice? The brand's philosophy is centred around smart and safe beauty, so you can be sure to trust their products.
The Paula's Choice Skin Perfecting 2% BHA Lotion Exfoliant is the ideal and safe way of melting away dead skin cells whilst minimising enlarged pores. Ever since its launch, we've been restocking this skin care essential to ensure that we have a smooth and refined complexion.
Price: £28.00 from Paula's Choice
Go To Store
Nuxe Huile Prodigieuse Or Multi Usage Dry Oil Golden Shimmer
We fell in love with the Nuxe Huile Prodigieuse Multi Usage Dry Oil, so of course we were going to be obsessed with a shimmer-infused version.
Initially, we were drawn in by its hypnotic inclusion of shimmering gold particles, but after a closer inspection we realised that this skin-loving formula contains the likes of vitamin E and precious plant oils for a veil of hydration that lasts all day long. In fact, the experts behind Nuxe have even included Tsubaki oil to fight off the first signs of ageing.
Sure, we may be venturing into the colder months now, but being the proud owner of bedazzling, sun-kissed skin never goes out of season. As the winds become a little nippier and the temperature starts to drop, investing in a decent body oil is essential in preventing that dried-out, chappy look.
This does-it-all dry oil can be used on the face, hair and body for a tip-to-toe glow up.
Price: £34.50 from Look Fantastic
Go To Store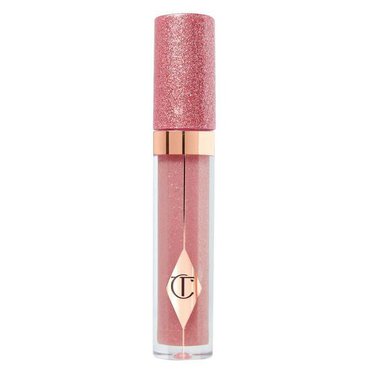 Charlotte Tilbury Charlotte's Jewel Lips
Hydration? Check. Shimmer? Double check. Our favourite Pillow Talk shade? You guessed it, CHECK.
Our latest obsession is from the cult-followed Charlotte Tilbury, who has so far delivered us with some of our favourite lipstick shades yet. This glittery gloss is no exception to the rule and delivers a serious wash of hydration that plumps up lips whilst keeping them feeling nourished.
In classic Charlotte Tilbury, daaah-ling fashion, the lip gloss is infused with an enviable rose gold sparkle that gives off a fuller-lip effect. While it may look the part, the gloss also contains a cocktail of lip-enhancing goodies, such as hyaluronic acid and vitamin E to stop your pout from drying out. And, for bragging purposes only, it even includes diamond powder to give off that jewel-like shine!
Price: £22.00 from Charlotte Tilbury
Go To Store