Best Met Gala Makeup 2019
The Most Iconic 2019 Met Gala Makeup Looks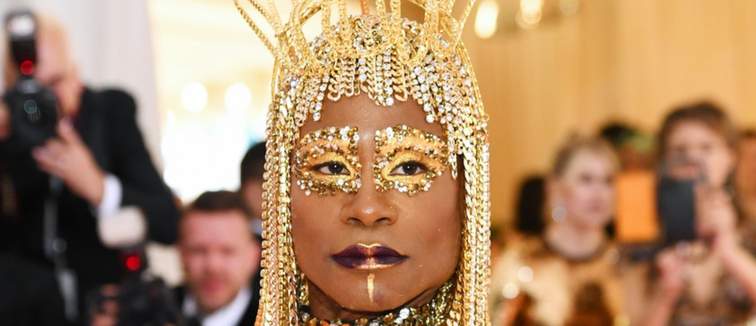 You're probably feeling a little overwhelmed by the all the looks that came from the 2019 Met Gala – taking in Gaga's four outfit changes is enough to exhaust anyone. With the extravagant and fluorescent fabrics taking centre stage, it can be easy to overlook the hard work and effort that each celeb's glam squad put into their complexions.
With that in mind, we've decided to put the spotlight on some of the best Met Gala makeup (and yes, of course Ezra Miller is on the list).
So without further ado, here's our mini awards list to credit the celebs (and their MUAs) for pulling off the most iconic looks.
Best winged eyeliner
If anyone is going to create a killer cat eye, it's obviously going to be a Ru Paul's Drag Race winner. Violet Chachki is serving us vintage diva realness with her winged liner – seriously, someone could injure themselves on a wing that sharp.
Not too confident in your cat-eye eyeliner skills? Give our guide on How to do the Perfect Winged Eyeliner a read for some insider tips and tricks.
GET THE LOOK:
Most extra AF eye makeup
Shocker, Lady Gaga is winning in a Met Gala category that was pretty much made for her. The global superstar wowed onlookers with a very OTT yet incredibly chic and powerful ensemble that included face jewels, false lashes and…er…whatever those gold spikes are.
GET THE LOOK:
Biggest beehive
Bollywood star Deepika Padukone teamed a statement pink cat eye with a gravity-defying beehive that just WORKED.
GET THE LOOK:
Best wet-look hair & makeup
Kimmy K slayed it with her tiny, corseted waist, but also made a real impact with her wet-look finish. The 'just washed' hair teamed with gleaming eyeshadow completed the reality star's image for a wholesome, mermaid-esque ensemble for the Met Gala this year.
GET THE LOOK:
Most artistic makeup
Obviously there is only one person who could win this category: Ezra Miller. His trippy, fascinating visual effects makeup had us hypnotised, showing us that the application of makeup can truly be a work of art.
GET THE LOOK:
Best use of glitter
Have you ever seen an eye makeup look that incorporates so much dazzle and shine? Lupita Nyong'o lit up the venue with her enviable glow, giving us some serious festival inspo.
GET THE LOOK:
Most voluminous 'do
Ciara went IN with the big hair this year, making it the main attraction of her overall look.
GET THE LOOK:
Best use of colour
Laverne Cox paired her icy blue hair and eye makeup with a bold pop of strategically placed pink blusher, bringing forth those much-loved 80s vibes.
GET THE LOOK:
Iciest look
Sophie Turner brought her GoT character's icy background into play by incorporating blue hues mixed with silver sparkle. It was the ultimate ice queen look.
GET THE LOOK:
The best all gold err'thang makeup
Billy Porter's unmatchable look was styled by the iconic Pat McGrath (who is known for her glitzy, extravagant and rich makeup products).
GET THE LOOK:
Well we don't know about you, but all of this glitz, glam and glow has us reaching for our makeup bags!
Related Categories