How to Shave: Trimmer or Razor?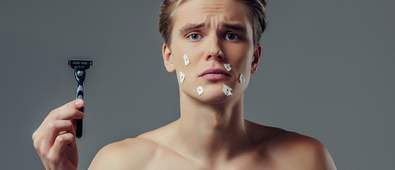 For much of human history, knowing what to do with your facial hair was a simple enough matter. The average caveman, for instance, grew out his beard with wild abandon. It was a direct choice between the au naturel look and hacking away at your face with the tribe's pointiest rock. Unsurprisingly, the au naturel look won out.
Fast forward a few thousand years, and the Victorian era was similarly straightforward. Either you opted for the regulation mutton chops and 'tache, or else you signposted yourself as a dangerously free-thinking radical.
These days, there's considerably more choice, and considerably more tools, to get your face fuzz looking just-so. That, however, comes with its own issues; in the face of so many options, it can all get a little overwhelming.
So let's clear the air a little by running through the benefits and shortcomings of a few different approaches.
1. With an electric shaver
First up, there's the electric shaver. Above everything else, this is simply too convenient to not consider. It's easy to use and saves you two to three minutes on a morning. Over a year, that works out as a full 11 hours.
That said, the true value of this depends on what exactly you'd get up to in those hours. Extra scrolling time is probably not a good enough reason to go electric.
Shavers like the Wahl Aqua Blade Multi Groomer are a great option, without sacrificing any efficacy.
2. With a trimmer
Or perhaps you're looking to maintain a more grown out look, in which case a trimmer like the BaByliss For Men Super Stubble XTP Beard Trimmer is ideal. After all, a lack of resistance ensures that it's near impossible to trim a beard with a handheld razor – imagine trying to land a punch on bead curtains.
And, as with all electric razors and trimmers, there's also the fact that you just need to pay that single initial cost, and not worry about any upkeep.
3. With a razor
Of course, the flip side to this is the regular replacing and restocking that comes with commitment to the wet shave. Plenty of guys, however, find this a price worth paying, and that's for several reasons. Number one, the shave itself is closer and smoother, as the blade passes much nearer the skin.
If that's pretty much common knowledge, then here's a lesser known fact: your common safety razor does an exceptional job at lifting away layers of dead skin. While the ladies scour the market for super-powered exfoliators, we have the very best at our fingertips without even knowing it.
And then there's the stuff which can't be quantified: the sheer enjoyment of taking some time to engage in a ritual that's satisfying, traditional and tactile.
This is especially felt when tapping into the heritage and precision of a set like this from Men Rock.
There is one key thing to remember here, though. And that's to hone your technique. If you slip and slide all over the place, then your complexion and nerve endings will go through the wringer. It's not brain surgery (not unless you do it incredibly badly), but it does require a basic level of skill.
4. With nothing at all
Then again, perhaps you don't want to shave. It comes in and out of fashion, but there is nonetheless something timeless about a well-kept beard. That last phrase, well-kept, is key.
Even if the razors remain under lock and key, don't become a stranger to your toiletries. You'll need something like ManCave Natural Blackspice Beard Control to maintain the look that you want. The human body is a wonderful, miraculous thing, but still highly unlikely to issue a perfectly photogenic beard.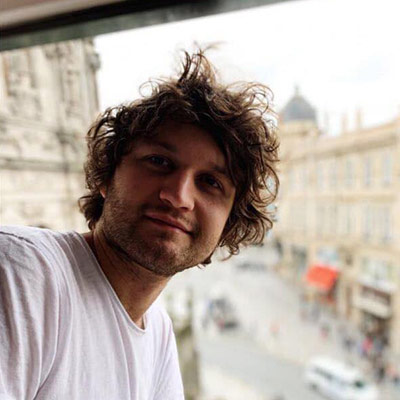 After six years of experience in content writing, Luke followed his passion for male grooming, particularly fragrances, hair styling and natural skin care.