How To Fix A Patchy Beard
How to Fix a Patchy Beard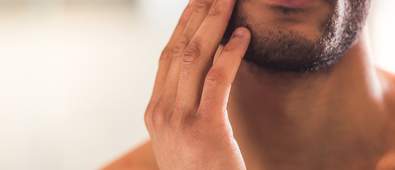 The beard is perhaps one of the most bulletproof trends. Yes, it's still in. The ebb and flow of fashion has buckled and broken in the face of so many handlebars, curlicues and lumberjacks.
The bushy beard been such a longstanding fixture of our culture. So commonplace that numerous partners can only begin to imagine what their other half's lower face looks like. As and when beards finally make their exit, we can expect plenty of raised eyebrows and a few plunging stomachs.
But that's a problem for another day. In the meantime, genetics can gum the gears and lead to patchy, inconsistent growth. And this makes a kind of sense, when you consider facial hair was not originally intended to be aesthetic, but rather a minor component of our continued survival. Sure, natural selection would concede, and now you're missing a patch of hair on your jaw.
And yet, just because it's logical and understandable, doesn't mean that you need to necessarily resign yourself to your beard's refusal to grow in certain areas. So what can you do with what nature gave you? How to fix a patchy beard? Here's our facial-fuzz-fixing rundown - and if you have more questions, there's always our ultimate guide to beard care...
1. Take Stock
A fulsome beard isn't the be-all and end-all. From Johnny Depp to Bob Dylan, Bruce Springsteen to Robert Downey Jr, Will Smith to Harry Styles, there's no end of celebrities who make lighter or more sporadic growth work for them. We sometimes seem to have unconsciously accepted the idea that all men's genetics allow for pretty comprehensive growth – which is absolutely not the case. From biblical frescoes to man-stranded-on-an-island cartoons, artists always tend to cast out realism and go especially heavy on the beard.
In short, take a look in the mirror and judge whether you even suit or especially want extensive facial hair. Learning to love your own natural features is the no.1 grooming 'hack'.
2. Practice Patience
If time's a great healer, then it can also be an impeccable stylist. Within two weeks, chances are your beard is not going to look hugely consistent. But remember that just as you didn't grow at one pace when a child, so too your hair will be susceptible to random fits and starts. Suck it and see before pressing the panic button.
3. Trim It Down
When Prince William, John Travolta and any number of other men have faced up to their balding tops and gone for a trim, onlookers have been quick to applaud their decisiveness. And the same's true of your facial hair. You don't have to go full choirboy, but keeping things relatively short and stubbly with a beard trimmer or an electric shaver is a great way of drawing emphasis way from the spots where the follicles are finding it heavy going.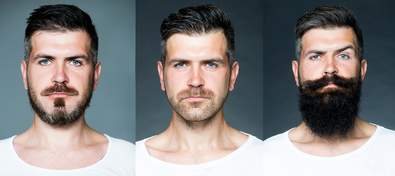 4. Brush Up On Your Beard Care
You've got two main allies in the hunt for fuller facial hair: beard balm and the beard brush or comb.
The first of these possesses enough subtle hold to guide the growing direction of individual hairs. If your patchiness is caused by either irregular angles or else by your beard's frustrating habit of growing in regular but disconnected tufts, then a balm is just the thing. After all, you don't expect your hair up top to fall into perfect stylised shape without product, so why would you expect the same of your beard?
To take that hair comparison a little further, a specialised beard brush allows you to essentially 'comb-over' problematic patches, particularly when used alongside a balm. The beard's relative shortness makes this technique less immediately obvious than it appears on the scalp, although you're your own best judge of how far to take it.
5. Reach For the Dye
Or 'Live and Let Dye'. If your 'patchiness' is more the result of a two-tone beard than any problems in growth, then reaching for the hair dye can have a transformative effect. There are, though, a couple of things to remember.
The first is that you can use hair dye, but only if you check for harsh ingredients and take into account your own skin's sensitivity. This is because the skin on your face is much more sensitive than that on your head, so patch test and use common sense. Failing that, use a dedicated beard dye, which are notably rarer but formulated to be gentler.
Another key thing to remember is not to go too dark. Opt for a shade lighter than you want, and apply again if necessary. Otherwise, you run the risk of looking like a Battenberg cake from the neck up.
6. Eat Your Way To Better Hair
Just in case the combined efforts of schools, scientists, bloggers and Jamie Olivers haven't had enough of an impact, we'll reiterate the point: eating healthily is at the heart of almost every bodily improvement. Make sure that you get plenty of hair-promoting biotin from such natural sources as avocados, eggs, milk, legumes and chocolate. And that's not forgetting niacin, which keeps hair from becoming brittle and sparse. Beef, fish, sunflower seeds and mushrooms are great sources of this. If you're struggling to get enough hair-boosting vitamins, then you can always add a hair supplement into your routine.
With just the sweep of a pen or the click of a button, we can make beards spontaneously appear on magazine pictures or computer game screens. Unfortunately, that's an effect it's impossible to replicate on your face, which demands time, patience and occasionally genuine effort. Armed with the right mindset and grooming tools, however, you can make patchiness a thing of past.
And what to do when that hair begins to grow? Check out our blog to find out the best beard styles for your face shape.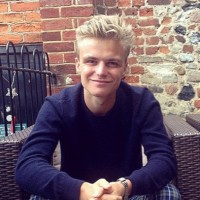 Alex has over six years of experience as a writer. He demonstrates exceptional grooming knowledge and has a natural skill for following current trends.