Guide to At-Home Hair Removal
Everything You Need to Know About Hair Removal At Home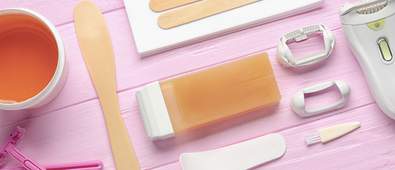 Whilst hair removal may not be the most luxurious part of our Sunday night pamper, it certainly takes up a major chunk of our beauty routine. However you choose to wear your hair, whether you like a baby-bottom-soft effect, are shaping up the edges or simply going after a few unwanted strays, there's method when it comes to de-fuzzing.
With so many innovative ways to rid yourself of body hair up for grabs, it can be hard to figure out the hair removal method that works best for you. That's why we've created the ultimate at-home hair removal guide, where we debunk every body hair removal treatment from razor to laser, suggest the best products and answer all of your burning questions. Keep scrolling for all that you need to know.

Shaving
How often should I shave?
How often you shave depends on personal preference and the speed at which your hair regrows; how quickly hair grows also depends on the area of the body. Most women find that hair on the legs, armpits and bikini line grows back within two to three days so, if you want to keep skin soft and smooth, it is recommended that you shave every one to three days. If you prefer to style and trim, try shaving every three to five days.
Shaving on a daily basis is not necessary unless you want to maintain a completely hairless look. We recommend following up with some post hair removal care treatments to prevent ingrown hairs and irritation.
How do I shave?
Ensure that you have soaked skin in warm water for five minutes before shaving. This allows your skin and hair follicles to soften and prevents oil and dead skin cells from clogging the razor blade. Next, apply a shaving cream or gel to the area you want to remove hair from. Using a new or sharp razor, shave in the direction that the hair grows. A dull blade and going 'against the grain' can lead to irritation, ingrown hairs, bumps and cuts. After each swipe, rinse the razor with clean water to prevent it from clogging and causing infection. Once you have finished shaving, rinse the area with clean water. You can also rinse with cold water to help pores and follicles close up.
How do I get rid of razor bumps and razor burn?
Razor bumps and razor burn appear when the hair follicle is clogged with an ingrown hair. To get rid of razor bumps fast, try gently exfoliating the area with a loofah or a sponge and cleanser. This can help the trapped hair to re-emerge quicker. Other formulas that utilise exfoliating ingredients, such as salicylic acid and glycolic acid, can also help get rid of razor bumps. We recommend carrying out a patch test before applying to affected areas.
If the razor bumps are inflamed and taking longer to heal, then you can apply a topical cream. Coconut oil, aloe vera, witch hazel and tea tree oil are also great at-home remedies that help soothe and calm inflammation.

Waxing
How do you wax at home?
Waxing at home can provide great results, including super soft skin and slower re-growth. To wax at home, you need to start by choosing the right wax for you; for example, hot wax or wax strips. Exfoliate your skin at least 48 hours before you wax. This will help the wax stick to skin and prevent ingrown hairs. Ensure the area you want to wax is clean and dry.
Should I use wax strips or hot wax?
Wax strips are a great option if you're looking to remove hair from larger areas such as the legs, arms and back. This is because they are much quicker to apply and pull off. Wax strips are the better choice for thicker hair types and less sensitive skin, as they boast a strong hold.
Hot wax is a popular choice for sensitive skin and intimate areas, hence why it is often used for bikini, Hollywood and Brazilian waxes. It can also be used to remove hair from the face and underarms. Hot wax works by opening up the pores and hair follicles so that removal is quick, easy and less painful. If you tend to have thicker, more stubborn hair, be sure to give hot waxing a go.
How long does hair have to be to wax?
The general rule of thumb is that hair should be at least a quarter of an inch long before you wax - that's around the size of a grain of rice! This length ensures that hair can grip to the wax and be completely removed from the root.
How long does waxing last?
How long a wax lasts can vary depending on your hair density and re-growth rate. Typically, a wax can last up to six weeks, however that does not mean you are completely hair-free for six weeks. Areas such as the bikini line may see re-growth between three to four weeks. If you are waxing for the first time, you can expect results to last between three to six weeks, with re-growth minimal.

Epilators
What is an epilator?
An epilator is an electrical device that temporarily removes hair directly from the root by grasping multiple follicles and pulling them out – think of it like electric tweezers. The way in which epilators remove hair is very similar to waxing, except it doesn't strip skin cells in the process. There are two different types of epilators that you can choose from; a dry epilator can be used without water, whilst a wet epilator allows you to remove hair in the bath or shower.
How do I use an epilator?
Using an epilator is super simple and not as scary as you think. Legs, underarms and the bikini line are areas you can epilate, although pain levels may vary for each.
To epilate, simply select a low setting (especially if you're a beginner), pull skin taut to make the process less painful and slowly move the epilator across clean skin, in the direction that the hair is growing.
How long does epilating last?
It's suggested that the results of epilating can last up to four weeks, but this can vary depending on your hair type and how quickly it regrows. If you regularly use epilators, you may find that over time hair starts to grow back thinner and softer.
How long should the hair be before I use an epilator?
Epilators can grab and pull hairs that are as short as 0.5mm, so you never have to worry about that awkward, hair-growing phase. In fact, they actually work better and are less painful on shorter hair.

Hair removal creams
How does hair removal cream work?
Hair removal creams, also known as depilatory creams, work by breaking down the keratin structure for softer hair and hair removal.
Once applied, the cream thins and breaks down the base of the hairs – so much so that when the cream is wiped away, the hairs will break off with it. It is important to remember that different skins and hair types may react differently, but overall the cream should be powerful enough to weaken and remove the hairs.
Is hair removal cream right for me?
As with everything, it is best to try it out for yourself! Begin by carrying out a little test patch to ensure that the hair removal cream doesn't aggravate or upset your skin. Once you've done this, go ahead and apply the hair removal creams over your legs or desired area. It is advisable to do legs first over more sensitive areas (such as the bikini line) just in case there is any sort of reaction.
How do I use hair removal cream?
Begin by carrying out a test patch before committing to a whole area of the body. Once you've carried that out, go ahead and apply the cream to the desired area using a thick and even layer of the product. Do not rub the product in, simply smooth it on.
Wash your hands immediately after applying and wait around six minutes. The time required for the cream to perform will vary on each product, so always check the packaging first and follow their strict instructions. Thicker hair may require a longer amount of time. Wipe the cream off with the included spatula and/or a wash cloth, again ensuring to not rub. Rinse with water and pat dry.
Can I use hair removal cream on my face?
It is not advisable to use hair removal creams that are meant for the body on your face. In some instances, this may cause a chemical burn or some form of irritation. However, a lot of hair removal brands have created specialised products that target areas of the face, such as the upper lip and around the jaw. These will be okay to use on the face, but it is best to do a test patch first.

Laser hair removal
How does laser hair removal work?
Laser hair removal is a medical procedure that is used to reduce the growth of hair on areas such as the legs, armpits, chin, upper lip and bikini line.
It works by targeting and destroying hair follicles, so that eventually they are unable to grow again. The laser produces a beam of light that zaps multiple hairs at once. The energy from the light is then transformed into heat, which damages the hair follicles and prevents them from re-growing.
How long does laser hair removal last?
If you're looking for long-term results when it comes to reducing hair growth, then laser hair removal is a great option.
While is doesn't usually result in permanent hair removal, it does delay hair growth for long periods of time. You may find that some patches of hair – likely to be in the more delicate areas – stop growing altogether. Noticeable results usually occur after three months of treatment.
The results of laser hair removal can vary, depending on your skin type and hair. You may need to undergo multiple treatments or regular maintenance treatments to achieve your desired result. Typically, laser hair removal works best on light skin and dark hair.
How do I use a laser hair removal machine at home?
Using laser hair removal machines at home is super easy and safe to do, although it can become time-consuming.
Make sure you set aside enough time to carry out the procedure efficiently. At-home laser hair removal machines often use lower settings, therefore it will require more sessions. If you want to see results, it is important to remain consistent.
Each laser hair removal machine works differently, so we recommend reading and following their instructions before use. As a guideline, ensure that you cleanse, shave and towel-dry skin before each session. Your skin needs to be silky smooth before you start zapping. Start at a low treatment level, and then increase one at a time until you reach a level comfortable for you. Place the laser tip flat on the area you want to treat and hold until you hear a beep. Lift the laser and repeat across skin. To find your ideal laser removal device, check out our guide to The Laser Hair Removal Machines Worth Investing In.
Now that you're fully equipped with all that you need to know about removing body hair at home, you can look forward to shaving, waxing or zapping away those unwanted hairs during your next pamper session! Don't forget to head over to our Beauty Hub for more body care tips and tricks!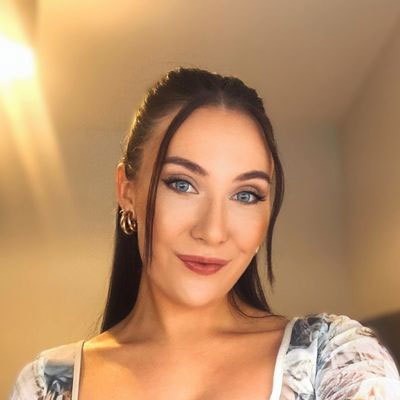 Carly is a beauty editor at Cosmetify and has been a part of our family for three years. She has over five years of experience in health, beauty and wellness writing.