BLEACH London Peach Review
I Dyed My Hair Awkward Peach: Here's My Review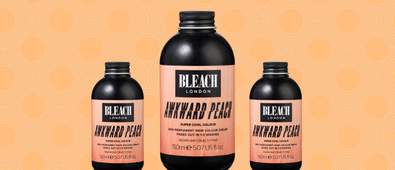 Much to my mother's dismay, I've always been the kind of girl who loves to experiment with different hair colours. I've been blonde, almost black (BIG mistake), pink, almost white, ginger, deep red and back to blonde and it's never long before I get bored and want to switch it up again. If you're reading this, mam, I'm sorry but out of boredom – and after writing about all of the best pastel hair dyes for spring – I decided to give BLEACH London's Awkward Peach a go.
And how excited I was.
When I went pink, I had to fully bleach my hair to achieve the best candyfloss colour possible. And when I say fully bleach, I mean five rounds of bleaching – yikes (times five). But it worked pretty damn well.
I was so in love with the colour but maintaining such a light shade when your roots are naturally quite dark is a full time job, trust me.
When it came to dying my hair pastel peach, I was already a relatively warm blonde, which I thought would work well as a base. Besides, my hair couldn't have handled another round of bleaching...I have a wedding to attend this summer and I'd quite like to have some hair left to style.
My hair is a honey blonde with lighter strands coming through. To be honest, I didn't know how well the colour would take as my hair is still warm from when it was deep red a year ago. Classic. But I was determined to make this colour work, so I bought three tubs of Awkward Peach (partly to ensure it worked and partly because I didn't want to run out mid-dye – it's happened before, resulting in my sister rushing to Boots for more dye while I panicked in the bathroom stood in nothing but a towel with blobs of pink all over the bath mat. Mother wasn't pleased.).

Much to my surprise, one tub was more than enough for my hair, which is both long and thick. I didn't cover my roots, though, as they are much darker and I knew the dye wouldn't take. If your hair is longer than mine and you are wanting to cover your roots, purchase two bottles just to be on the safe side. And if you don't use it all, it'll always come in handy for touch ups.
Et voila, my hair is peach. I applied with gloves onto shampooed, towel-dried hair and left it on for 30 minutes (give or take – I might have gotten caught up watching the Kardashians vs the Wests on Family Feud...highly recommend if you want to see Yeezy have the time of his life). The semi-permanent dye is said to last for two to 10 washes, depending on your hair type, base colour and other environmental factors.
I'm extremely pleased with how the colour went. My hair actually looks so much healthier than it did previously and, as a natural strawberry blonde, it really suits my skin tone. But there's no denying it, I seriously need to visit a salon. Why did no one tell me my roots were out of control? Nothing like a hair review to make you realise how abysmal your roots are.
Try it yourself! And don't forget to tell us how it goes...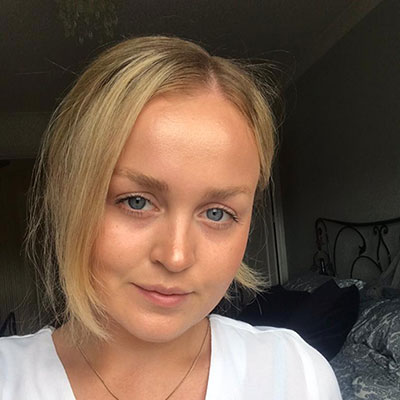 Hannah has worked as a writer for over four years and knows beauty, skincare and makeup like the back of her hand.