Best Too Faced Makeup Products
A Complete Round-up of the Best Too Faced Makeup Products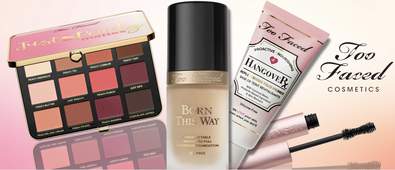 Ah, Too Faced. They're the long-standing beauty brand that helped us kickstart our makeup collection, and they remain a firm favourite of ours to this day.
It's no secret that Too Faced's popularity is unrivalled – their iconic products (and there's a lot of 'em) consistently top the leader boards and sell out fast. Maybe it's the pretty pastel packaging; the cheeky product names or the mouth-watering scents. But most likely, it's the fact that Too Faced know how to have fun whilst also offering fool-proof formulas.
From their cult-status mascara to their hangover-saving skincare and eyeshadow palettes that are good enough to eat (literally), we round-up the best Too Faced makeup products of all time.

Too Faced Born This Way Range
The Too Faced Born This Way range is the secret to a perfect makeup base. Inspired by the beauty of real skin tones, it serves up an entire line of foundations, concealers, powders, highlighters and eyeshadows. Whether you prefer a natural or full coverage, matte or dewy finish, this collection of professional products ensures that you're forever putting your best face forward. In fact, your glam will be so flawless, anyone would think you were born this way.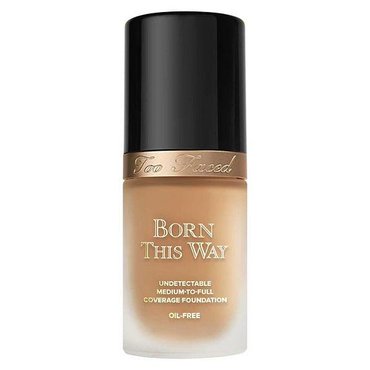 £9.99

£34.00

(71% off)
It's the iconic face product found in every beauty blogger, editor and MUA's makeup bag. The Born This Way foundation is an oil-free formula that masterfully blurs the line between makeup and skin. Inspired by the 'I woke up like this' idea, it provides a natural, medium-to-full coverage that goes completely undetectable. That's right, there's no such thing as caking, creasing or fading with this foundation as it wears comfortably, all day long.
Arriving in over 35 shades, including fair, medium and dark plus cool and warm undertones, finding your perfect match is made simple.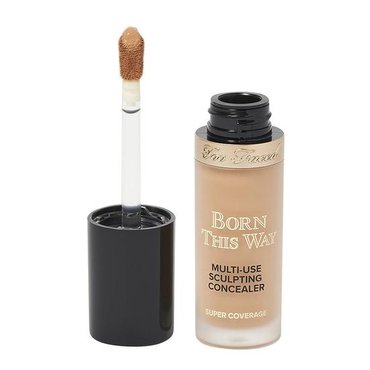 £17.99

£27.00

(34% off)
Wave bye-bye to dark circles, blemishes, hyperpigmentation and imperfections, as Too Faced introduce the Born This Way Super Coverage Concealer.
Working to cover, conceal and camouflage, this multi-use sculpting concealer is all you need to perfect your canvas. Boasting a makeup-skincare hybrid formula, it can be used to retouch and hide imperfections on the surface of your skin as well as provide a deeper hydration. The result? Soft, smooth and photo-ready skin (without any flashback).
The concealer can also be used to contour and highlight, as the diamond-shaped doe foot applicator makes it super easy to carve out a model-like bone structure and achieve precise coverage.
£11.50
What better way to complete your base makeup than with a dusting of the Born This Way Setting Powder? Designed to lock in your liquid foundation and concealer, this lightweight face powder sets makeup for longer wear. The silky, fine-milled formula provides a second-skin veil and a finish that's so natural they'll think you were Born This Way. It's even infused with hyaluronic acid for a smoother, brighter, more youthful appearance.

Too Faced Better Than Sex Range
The Better Than Sex range is everything you imagine it to be; sexy, outrageous and voluptuous. It features some of Too Faced's most-loved products (spoiler: the Better Than Sex Mascara) and is all you need to achieve seriously sultry eye looks. Whether it's a quick lick of mascara or a precise winged liner, Better Than Sex provides mind-blowing results each and every time. There's no doubt that this collection will become a mainstay in your makeup bag.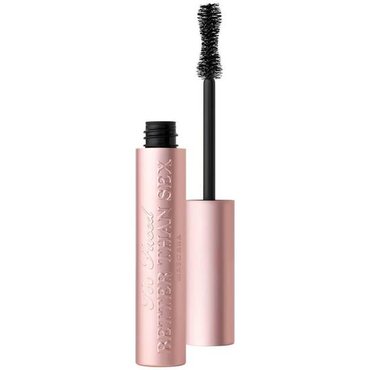 £9.99

£13.00

(24% off)
It's the number one selling prestige mascara in America and a cult-favourite across the globe, meaning it's nothing but a must-have for your makeup bag.
Dubbed to be so amazing that it's better than sex, this mascara provides mind-blowing results. Just one coat of this formula is enough to lengthen, thicken and curl your natural lashes. The more coats you apply, the more extreme the volume and dramatic the look. And don't worry, there'll be no clumping or flaking as this mascara is completely buildable.
The mascara itself boasts an hourglass-shaped brush so that every lash, even the shortest, can be coated with extreme black pigment. From root to tip, lashes are lifted, curled and volumised, leaving you with a flutter worth flaunting.

Too Faced Hangover Range
Is your skin looking a little worse for wear? Is it in need of some TLC? The Too Faced Hangover range has been specially developed so that you can hit refresh on your skin.
Featuring everything from primers to setting sprays, creams and serums, it's the ultimate range of skincare-makeup products. Every formula in the line-up is supercharged by science and works to hydrate, replenish and illuminate skin.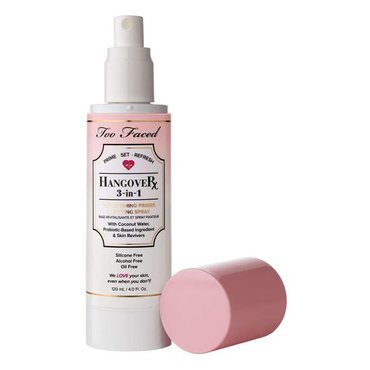 £27.50

£30.00

(9% off)
Taking the original Hangover Primer one step further is the Hangover 3 in 1 Primer & Setting Spray.
This revolutionary makeup primer is nothing but a one-stop shop. Boasting a multi-tasking mist formula, it can be used to prep and prime skin, set makeup and refresh your face throughout the day.
The spray can also be used to create a soft and seamless canvas for makeup application, and then re-applied to lock your looks in place. Impressive, right? With just a few spritzes, even the most fatigued faces can be transformed into an energised complexion. Trust us, this product is a staple for your beauty collection – you won't be able to get enough of the stuff.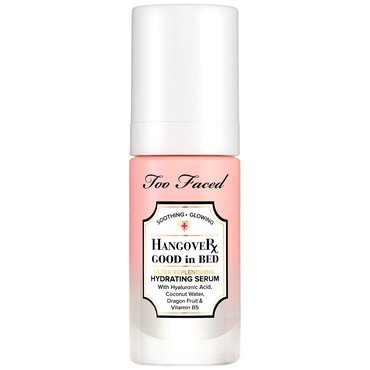 £23.95

£34.00

(30% off)
Beating a skin hangover is made easy with this luxurious face serum from Too Faced. The Hangover Good In Bed Serum is supercharged with natural ingredients that are backed by science, making it the best remedy for seriously tired skin.
As soon as your head hits the pillow, the serum works around the clock to restore, rejuvenate and replenish your complexion so that you can relish in a complexion that looks and feels as good as new.

Too Faced Chocolate Range
If Too Faced are known for anything, it's their ability to pack high-performing formulas into cool, cute and quirky concepts, and the Chocolate range is exactly that. Everything from the bronzer and eyeshadow palettes to the lip plumpers and lipsticks within this collection are made to be Instagrammable – so much so, that some formulas even smell and taste like chocolate! It's undoubtedly the perfect variety of neutral shades that naturally perk up a complexion.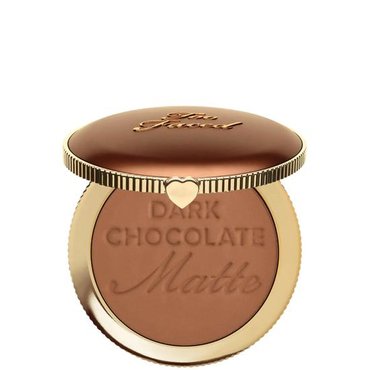 £19.99

£28.50

(30% off)
Good coverage? Check. Matte finish? Check. That all-important cocoa scent? Check. The Too Faced Chocolate Soleil Matte Bronzer is most definitely one for your makeup bag.
Get ready to reveal a flawless bronzing, as this bronzer delivers a warm, sun-kissed finish. Combining medium coverage with just the right amount of colour, this formula allows you to enhance your natural skin. Arriving in an array of shades, there's a bronzer here to suit every skin tone and type.
Whether you want to flaunt a natural hint of colour or go glam with a contoured finish, this bronzer does the trick.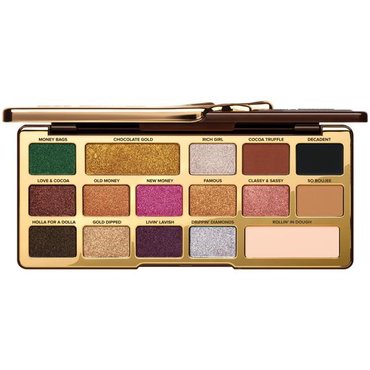 £33.95

£40.00

(16% off)
The Too Faced Chocolate Gold Eyeshadow Palette gives you unlimited access to show-stopping eye looks.
Housing not one, not two, but 16 matte and shimmer eyeshadows, this palette is all you need to make your eyes the centre of attention. Inspired by sweets and chocolate, you can experiment with shades that range from truffle and cocoa brown to bubblegum pink and mint green. Some boast a matte finish, which is perfect for the daytime, whilst others offer a subtle shimmer so that you can dial up the glamour.
But the best is yet to come. The collection is infused with real gold, as well as a sumptuous chocolate scent, plus housed in the iconic gold-mirrored chocolate case.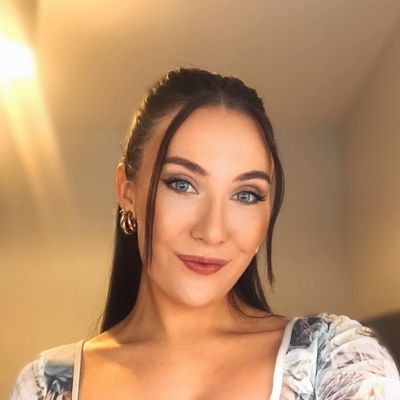 As the Senior Content Editor for Cosmetify, Carly is the go-to for all the latest (and greatest) beauty tips, tricks and trends. With over six years of experience in the industry, she knows all the ins-and-outs when it comes to health, beauty and wellbeing.