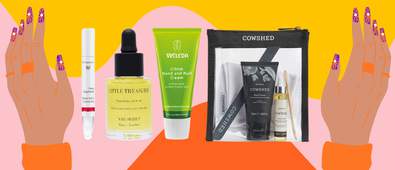 Heading to the nail salon can be an expensive trip. Why not save money and do it yourself instead?
We've rounded up all our favourite nail treatments and nail care solutions to help revive your fingers and toes in the comfort of your own home.
Whether you want a professional-looking manicure or healthier cuticles, there's something for every type of routine.
What is in a manicure set?
A manicure kit is packed with all the tools you need to achieve a professional-looking manicure from the comfort of your own home. A basic manicure kit typically includes nail scissors, a cuticle nipper, nail clippers and a nail file. Some manicure sets come fully equipped with more tools, such as cuticle pushers, tweezers, buffers, cleaning brushes and small bottles of acetone or nail polish remover. A manicure set often arrives in a compact or small toiletry bag so that you can keep all your tools in one easy and accessible place.
How do you use all the tools in a manicure kit?
Start by using the nail clippers to trim and shape nails. Twist the lever so that the clamp opens and place your nail in between, making sure you are not too close to the skin. Squeeze down on the lever to clip away the nail.
Next, you should use the cuticle pusher – the stick with the flat end – to push back any overgrowing cuticles from the nail bed. Once you have completed this step, take the cuticle nipper to gently snip away any dead skin or hangnails that make hands look untidy.
Take the nail file and shape your nails. You can create anything from square to oval and almond shapes – whatever suits your style and personality. Work the file in one direction. Never use 'sawing' back-and-forth motions, as this can cause damage to the nail.
The buffer can be used as a final step to buff away ridges, ready for painting or to give natural nails a subtle polishing and shine.
What is in a nail treatment kit?
The products you find in a nail treatment kit all depend on the concerns you want to tackle. Typically, a nail treatment kit contains a variety of liquid treatments, creams and oils that help to strengthen, nourish and protect your nails. For instance, kits that are designed to revive dry and damaged nails will include treatment polishes that restore, recover and add brilliance. Sometimes, the products within a nail treatment kit are numbered and should be used in order for best results.
How often do I need to treat my nails?
In order to keep your hands and nails looking and feeling healthy, you should treat them at least once every two weeks. Regular upkeep will prevent your nail and cuticles from overgrowing and becoming ragged. Cutting and filing your nails frequently also helps keep your nails in shape and stops them from becoming long and prone to breakage. If you regularly wear acrylic nails or nail polish, you should try and treat your nails on a weekly basis or in between salon appointments to keep them strong, healthy and nourished.
The best nail kits
How do you look after your cuticles?
A big part of taking care of your nails and hands is looking after your cuticles – the clear skin along the bottom edge of both your fingernails and toenails. To care for them, you need to regularly soak your hands in warm water. This helps keep the skin and the cuticles soft. When the cuticle is soft you can also gently push them down with a cuticle pusher.
Then liberally apply your favourite cuticle oil or cream. This keeps them in tip top condition and ready for nail polish. At Cosmetify, we have everything you need to keep your cuticles healthy, from vitamin E oils to professional cuticle pushers.
How do you know if your cuticles aren't healthy?
Cuticles aren't something we always think about when it comes to hand and nail care, but it's crucial to take care of them to prevent infections. Signs your cuticles are unhealthy are if they are dry, peeling or cracked. This often occurs in colder weather because of the lack of moisture. Unhealthy cuticles can also suffer from redness or tenderness. They can even change colour or shape in some circumstances.
Daily cuticle care and trimming your nails regularly will help keep your nails in good condition. However, if you're worried about any signs of infections, make an appointment with your local GP who can advise on the best course of action.
What are the benefits of cuticle oil?
We love the major benefits of cuticle oil. Not only can these nourishing solutions keep your cuticles soft, smooth and moisturised, but they can also promote circulation around your nails. This is key for encouraging nail growth, which is perfect if you want your nails to be stronger and healthier after one too many gel manicures. Oils and creams are also a great way to improve the appearance of your nail and nail beds. Better still, they add an extra shine to your nail polish.
We recommend adding a few drops onto your cuticles every evening as part of your night-time routine. This is the perfect pamper moment which restores, protects and hydrates your nails.
How can I make my own DIY cuticle oil?
Make your own DIY cuticle oil at home with nourishing essential oils. Olive oil, almond oil, avocado oil, lavender essential oil and jojoba oil are all fantastic alternatives. However, if you need a formula that actively nourishes and protects your cuticles, we recommend taking a look at all our wonderful cuticle care products.
With vitamin rich formulas and moisturising cuticle creams, there's everything you need to take your nail care routine to the next level. Simply use our drop-down filters to find the best formulations, tools and products for your nails. Discover leading nail care brands such as Nails Inc, Mavala, Nailberry and Sally Hansen.
The best cuticle care
What are the best hand and nail creams?
The best hand and nail creams are the ones which have a plethora of nourishing goodies. They help restore your nails, cuticles and hands and are particularly beneficial after wearing acrylic or false nails for too long. At Cosmetify, you can choose from a wide collection of hand and nail creams from an array of leading brands, including Caudalie, Nuxe, ELEMIS and Weleda.
To find the best fit for your fingertips, use our drop-down filter system. This helps you refine your search by brand, format, nail concern and ingredient preference. You can even sort by price to find budget-friendly options for your nail care routine.
Do hand and nail creams help nails grow?
Ensuring your nails are strong and healthy is the key to growing them fast. Hand and nails creams can help by adding a much-needed dose of moisture, which can prevent dry and brittle nails. Formulas enriched with nutrients and vitamins keep your fingertips in tip top condition, which encourages nail growth.
However, to grow your nails you should also try to avoid wearing falsies, such as glue-on fake nails or acrylics. It's also important to keep your nails neat and tidy, by trimming, filing and buffing them often. You can also add nail strengtheners to your routine to harden your nails and promote regrowth.
Can I use normal hand cream on my nails?
Specially designed hand and nail creams help improve the strength and health of your nails. However, it's important to look at the different ingredients in each formula. Hand creams that contain things like vitamin C, coconut oil, jojoba oil, beeswax and honey will encourage nail regrowth. Of course, a lot of hand and nail creams combine ingredients to help both your skin and nails.
How do you apply nail cream?
Make sure your hands and nails are clean. If you want to shape or buff your nails, do this before applying any solutions. Then take a small amount of the cream and gently massage onto the tip of your fingers, across your nails and into the cuticles. This helps protect, nurture and care for your nails, especially if they are feeling brittle or weak after your latest manicure. If there's any excess cream massage into your hands and wrists.
Use whenever your hands and nails feel dry, but for best results apply before bed so the cream can soak into the skin whilst you sleep. In the morning your hands will feel soft, smooth and oh-so-supple.
The best hand and nail creams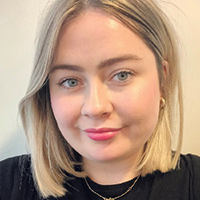 Rebecca is a content writer with over three years' experience and a keen interest in cosmetics. Cosmetify allows her to combine her blogging skills with her passion for beauty.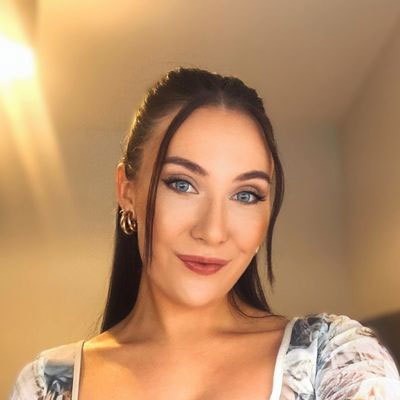 Carly is a beauty editor at Cosmetify and has been a part of our family for three years. She has over five years of experience in health, beauty and wellness writing.