A Complete Rundown of the Best Caudalie Products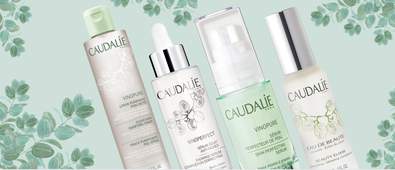 When it comes to skincare, we'll take any chance we can get to bag French pharmacy favourites – Caudalie being one of them.
This Bordeaux-based skincare brand rightfully claimed its space at the top of the leader board when they patented the powerful properties of grapeseed. Today, they continue to boast an elite line-up of skin, hair and body products, all of which are supercharged with a variety of botanical antioxidants that refresh, revive and repair skin.
With so many iconic formulas belonging to this brand, it's only right that we give you a complete rundown of the best Caudalie products. Get ready to fill up that basket, 'cause there's a lot of 'em!

Caudalie Beauty Elixir
Everyone is striving for their beauty elixir, and now you've finally found it. Caudalie's hero product has become a cult favourite with their fans ever since they were introduced to its organic goodness and invigorating qualities.
Whether you want the single bottle of luxury or a full set of nourishing products, you can find the amount that's right for your skin care routine. You can also purchase the bestselling elixir in travel size if you're someone who's always going from city to city.
Drenched in natural and organic ingredients, Caudalie's emblematic product has become popular for a reason: it delivers stunning results, has a luscious texture to run over your skin and is laced with aromatic ingredients.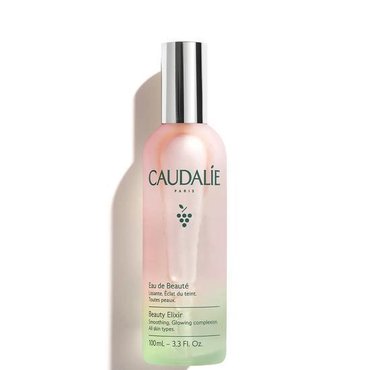 £11.50

£15.00

(24% off)
The symbol of Caudalie's selection, Beauty Elixir has become their bestselling product and there are endless reasons why: it's made of 95% naturally derived ingredients, it reveals a radiant complexion full of vitality and tightens the pores for a youthful glow.
The invigorating face mist first came into prominence when it became the go-to products for models on fashion shows and actors on the big screen. Whether you want to use it over or under your makeup, implement the must-have mist into your routine for a resurgent boost to your skin.

Caudalie Vinoperfect
Vinoperfect may sound like a hashtag from a mum who loves drinking red wine, however, it's also Caudalie's bestselling range. Formed of multiple top-class products, such as the much-loved Radiance Serum, it's become a cult-favourite selection for all of Caudalie's fans.
The inclusive collection is suitable for all skin types, from sensitive to oily, mature to dry, making premium skin care accessible to everyone. Brimming with luxurious formulas, the deluxe range has everything you need to achieve a gorgeous complexion with a radiant glow.
Browse the selection of bestsellers here to discover the perfect product to enhance your skin care routine.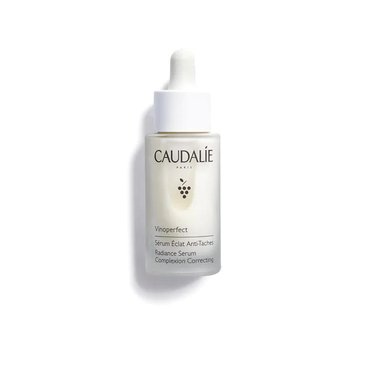 £35.80

£50.00

(29% off)
Ever since it was launched in 2008, Caudalie's bestselling serum has become a firm favourite for women across the globe. Its restorative qualities even your skin tone, promote a radiant glow and prevent spots from appearing.
The potency of the formula is due to its special ingredient, viniferine, a powerful material that's 62 times more effective than Vitamin C at producing a healthy and bright complexion. Add the supreme serum to your skin care routine and bask in your renewed glow.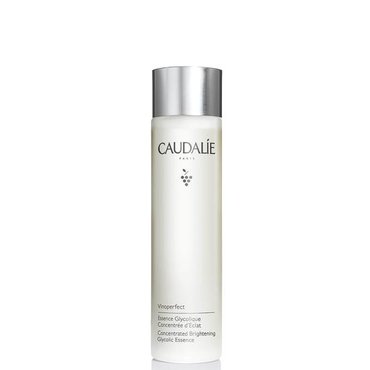 £20.70

£28.00

(27% off)
Combining the luxurious style of France with the innovative skin care techniques of South Korea, Caudalie's brightening serum has the potency to brighten even the dullest complexion.
Vegan and cruelty-free, the organic remedy is brimming with natural ingredients to deliver a refreshed finish with a radiant glow. Cleanse dead skin cells with the dynamism of glycolic acid, breathe moisture into dry areas with grape water and guarantee a healthy complexion with white peony.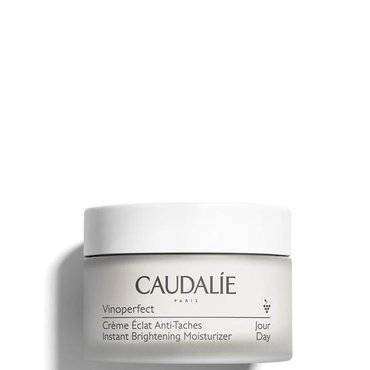 £26.50

£37.00

(29% off)
Enjoy the nourishing properties of a moisturiser alongside the brightening qualities of a dark spot skin treatment with this must-have, multi-purpose product.
Combat pigmentation, blemishes, dark spots and scarring with this rigorous formula powered by the brightening benefits of viniferine. Dermatologically tested and non-comedogenic, the hypoallergenic remedy promises to leave your skin feeling super soft, clear and radiant. Once you've achieved an illuminated complexion, keep it protected from environmental stressors and toxins with an SPF.

Caudalie Vinopure
No, we're not trying to sell you deliciously pure wine (if only), Caudalie Vinopure is a premium selection of serums, beauty elixirs and enriching gels that promise to deliver your freshest complexion yet.
Diverse and versatile, the stellar selection has something for every skin type and every skin concern: clear your skin with a purifying toner, cleanse blemished skin with a potent gel or mattify your complexion with the nourishing creams.
On a similar theme to the rest of Caudalie's wholesome collections, Vinopure is almost entirely comprised of natural, organic and vegan ingredients, promoting a clean and safe skin care regime. Banish chemicals and toxins from your routine and welcome the soothing power of nature.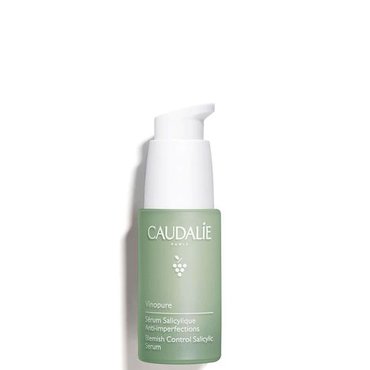 £22.80

£32.00

(29% off)
Who wouldn't want perfect skin? Whilst we can't promise your skin looks absolutely perfect after applying Vinopure's serum, we can guarantee that it looks clearer, brighter and healthier.
Tailored to those of you with sensitive skin, the soothing blend of antiseptics relieve irritation for a calm complexion. Quick-absorbing and lightweight, the nourishing serum combats stubborn blemishes, targets blackheads and the wave of hyaluronic acid produces a radiant glow.
Embrace the power of nature and get flawless skin with true clarity.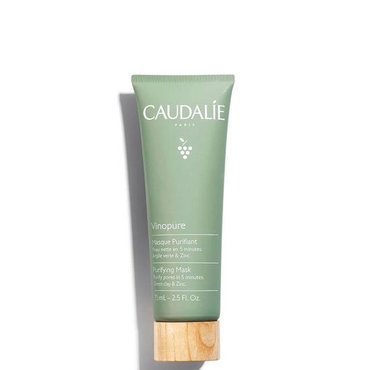 £17.99

£26.00

(31% off)
Caudalie are all about precision. Instead of making vague formulas that cater to all skin types but aren't specifically tailored to any, they intricately formulate every remedy to target concerns for specific skin types.
This Vinopure Purifying Mask is made for those with oily and blemish-prone skin. Antioxidants are mixed with a bunch of natural and organic ingredients for a perfectly balanced complexion that's rich in hydration and free of impurities.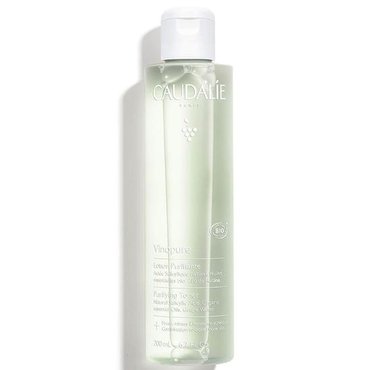 £14.20

£21.00

(33% off)
Tired of looking at blemishes and impurities in the mirror? You're not alone, and Caudalie have created the antidote for blemish-prone skin.
Gentle yet rigorous, the deluxe formula is powered by grape-seed polyphenols and salicylic to remove impurities, enhance your skin's clarity and reveal a clear complexion.
99% organic and evoking a 100% natural scent, the aromatic, cleansing and enriching ingredients combine for brightened skin that's finely scented.

Caudalie Premier CRU
Get Premier League quality skin care with Caudalie's adored collection of deluxe products. Housed in chic, cool and effortlessly stylish bottles, Premier CRU enhances the aesthetic of your skin care set, the calibre of your products and the simplicity of your routine.
Get plump, full and radiant skin with the wave of organic goodness: essential oils, natural ingredients and vegan materials are blended together to create a range that harnesses the skin care power of nature.
Each formula is carefully tailored to bring out the best in your complexion, whether it's with a hydrating eye cream, a facial serum or a luscious oil. Search the range's bestsellers below or explore the entire selection for top-drawer products that improve any skin care routine.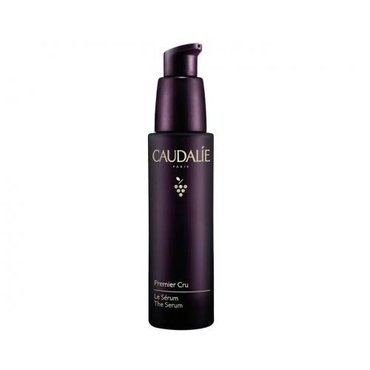 £82.00

£92.00

(11% off)
Premium skin care is always worth the money, especially when it produces stunning results such as this deluxe serum. Forming the heart of the beloved Premier Cru collection, this standout serum is drenched in organic and natural ingredients to produce a plump and full complexion.
Dermatologically tested and mineral oil free, the vegan formula is powered by the hydrating qualities of hyaluronic acid to revitalise your skin. Add it to your morning and evening routine to notice visibly brighter skin with improved tone and texture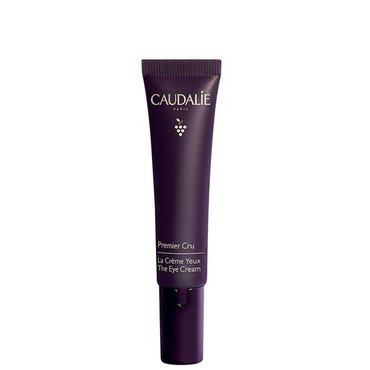 £35.25

£51.00

(31% off)
This eye cream is luxury treatment at its finest. Tailor-made for mature skin, it smooths the appearance of fine lines, firms and plumps lacklustre skin and boosts radiance in a blink.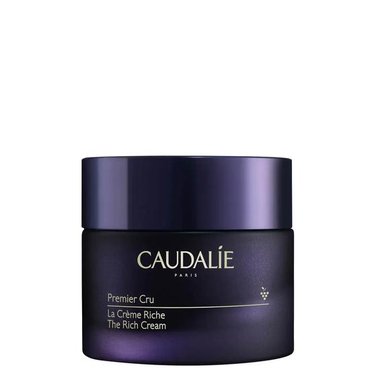 £75.99

£92.00

(18% off)
Of course, the primary purpose of a skin care product is to improve the look and feel of our skin, but our favourites are always the one that are a pleasure to apply.
Lusciously smooth and decadently rich, the luxurious cream is a dream to lather over your face, neck and chest. Plump the skin with the dose of resveratrol, exude a radiant shine with viniferine and keep your renewed complexion protected with the preventive flow of antioxidants.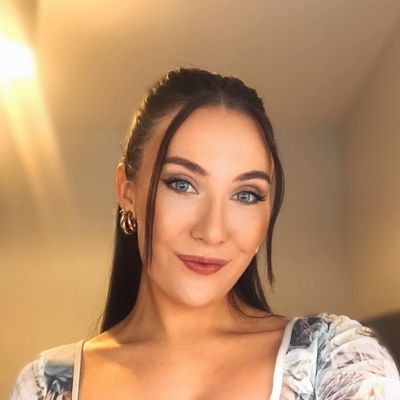 As the Senior Content Editor for Cosmetify, Carly is the go-to for all the latest (and greatest) beauty tips, tricks and trends. With over six years of experience in the industry, she knows all the ins-and-outs when it comes to health, beauty and wellbeing.