The Autumn Hair Colours You Need to Know About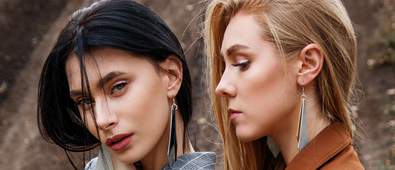 Autumn is the season of change, the season of letting go. For many, the turn of a new season can prompt a new mindset, a new wardrobe or, most importantly, a new hairdo. The summer months have drawn to a close; gone are the days of sun-kissed highlights and pastel pink nails. Instead, it's time to mix things up with more romantic, sultry tones – you know the ones, we're talking maroon reds, vibrant ambers, golden browns.
So, what are the professionals saying and what are the autumn hair trends for 2022? Well, the general consensus among hair colourists is that natural hues are making a strong comeback as they often do in the colder months (and thank god for that, because I don't think our tresses could take much more bleaching). Alongside that, you can expect some copper tones with a refreshing twist, warm babylights and cherry reds.
We've collected a bunch of inspirational pics that showcase some of the best autumn hair colours for this year to take to your stylist, or to your bathroom sink if you're brave enough to dye it yourself!
1. Low Maintenance Highlights
More of a style than a colour, this trend is great for those who don't like to make much of a to-do about their 'do. You'll definitely want to go to a professional hairdresser to get these highlights, but once you do, the look is relatively low maintenance. The dark root lets you leave it awhile between appointments as your hair will still look great as it grows out. Get the highlights in whatever colour suits you and your hair, and you're ready to roll!
£7.67
To extend the time between your salon visits even more, top up your colour with this conditioning treatment from Osmo that revitalises your colour in just three minutes.
2. Tweed Blonde
Let your poor platinum plaits rest until next summer and transition into this lovely dimensional blonde. Named after the criss-crossing of tweed fabric, this creamy blonde weaves in brunette pieces to give your hair depth without making a major change to your colour. It's a great way to slowly transition to a darker shade too if you think you'll want to go brunette for winter! Babylights, baby steps.
£4.89
While tweed blonde may look simple, there's lots of work that goes into weaving the colours together, so for this we'd again suggest making a hair appointment. However, keeping the shade looking glossy and luxe is totally within your power. These semi-permanent colours from Revlon make it easy peasy to customise and refresh your shade.
£10.45

£15.75

(34% off)
Experiment with products to revive your unique blonde! We love Weleda's super nourishing masks for conditioning and colour revival.
3. Caramel Highlights
Brunette gals, this one is for you. The aim here is to really enhance those gingery-gold tones that some brunettes naturally carry. This is a great alternative to stronger auburns (see the next trend) if you don't feel that that much warmth will suit you. When that autumn sunset hits those freshly dyed strands, expect heads to turn.
£8.25

£16.00

(49% off)
If you've already got blonde highlights from your summer 'do, it's possible to pull this one off at home since you'll be darkening them with a warmer, caramel colour. We love the shade Butterscotch from Redken. Saffron is another great choice for a slighter darker result. Just remember to keep it bright and warm!
4. Copper Tones
Copper in all its glorious tones has been hot for a few years now, and we still don't see it going anywhere soon. This autumn, it's cinnamon browns and auburns that will steal the show. Spotted this year on celebrities like Phoebe Dynevor from Bridgerton, Barbie Ferreira and Sydney Sweeney out of Euphoria, and even Kendall Jenner, it's a shade you'll be dyeing (haha, get it?) to try this autumn.
£9.85

£16.00

(39% off)
Choose your favourite coppery shade from Redken's extensive Shades EQ range and paint the demi-permanent colour all over pre-lightened or blonde hair.
5. Root Smudge
If you're a natural DIY-er or if the series of covid lockdowns pushed you to start doing your own hair, then this is an easy trend to jump on from home, plus a great way to grow out a bleach job if you're tired of touching up at home or at the salon. Root smudges involve taking a dye, toner or gloss that's closer to your natural colour and dragging it down a few inches from your roots and blending out the harsh lines between your dye job and natural colour.
£5.04

£9.05

(45% off)
In just thirty minutes, these semi-permanent dyes transform your hair without damaging it with peroxide. They only last 10-12 washes, allowing you to change it up if you want to try a colourful root smudge or a pastel-y colour come spring without going through the harsh bleaching process again.
6. Deep Brunette
Don't mistake this one for a boring, one-dimensional brown. Coming in variations of mocha and chocolate highlights, balayage and more, this rich and elegant colour will carry you glamorously all the way through winter. This colour looks best with tons of shine to help bring out the different tones in the hair and keep it from looking flat.
£7.67
If the warm shades of this season don't tempt you, go for a cool, neutral brown like this one.
£21.95

£28.00

(22% off)
Bring out the shine in your brunette hair by strengthening it with Olaplex's nourishing serum. Damaged hair and split ends can make your hair look dull, the opposite of what you want no matter what colour you've got, but especially for this deep shade. Who better to go to than the bond-repairing experts? Find out more about Olaplex in our beginner's guide here.
Mix things up this season and test out some of these fabulous autumn hair colours. Once you've got the colour sorted, it's time to grow those strands into thick and voluptuous tresses. Check out The Ultimate Guide To Hair Vitamins for a little extra inspo, and make sure your hair looks it's best in its new colour with our top favourite masks for dry hair.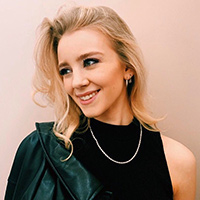 With five years' experience under her belt, Ellie has worked alongside a range of highly regarded makeup artists, giving her a real insight into what consumers should be spending their money on.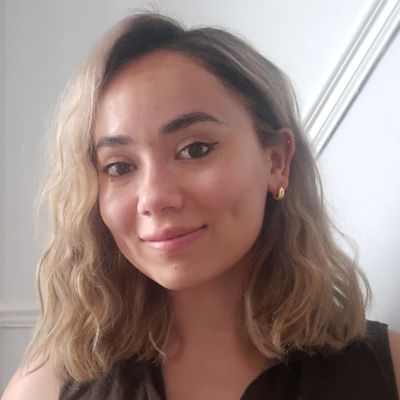 Gabriella is a junior content writer with a background in creative writing, content marketing and journalism. She's passionate about all things makeup and skincare, but especially vegan and cruelty-free beauty that is effective and inexpensive.