5 Hangover Skin Care Tips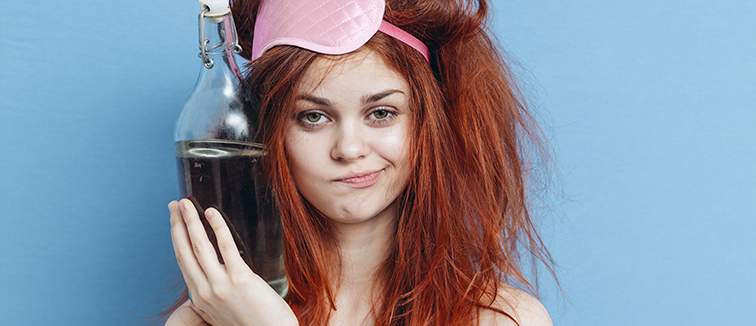 Whether it's letting Netflix continuously play another episode or adding yet another unnecessary item to our ASOS basket, binging seems to be a prominent trait in us millennials. But while these traits may not be great for our wallets (or eyes), there is a more common overindulging habit most are particularly guilty of here in the UK: drinking.
We drink to celebrate a success, a failure or generally just to be social – and, let's be honest, it's usually pretty damn fun (within reason). Until of course, you wake up and welcome the next day with a raging headache, dodgy tummy and dehydrated, irritable skin. This overindulgence in alcohol from a heavy night out wreaks havoc on pretty much every aspect of the human body, but for now we're going to address how it affects your skin – and more importantly – how to combat that dull, hungover complexion.
So, if you're feeling a little dreary from last night's alcohol consumption, take a big gulp of water, pop a paracetamol and buckle up for the five cardinal rules of curing a skin hangover.
1. Chug, Chug, Chug!
No, not more alcohol – doing that 'hair of the dog' ritual doesn't work for your skin, unfortunately. The first stage of combatting dehydrated skin is to quite literally quench your thirst. Skin needs to be treated internally as well as externally and although there's a huge array of topical treatments for dried out skin, you still need to feed it from within. No cheating here I'm afraid guys.
Try out a chilled citrus, cucumber and mint infused water to absorb the anti-inflammatory properties within the fruit. Bonus points if you can include a thirst-quenching face mist to soothe the external skin while you wait. Our go-to is the Elizabeth Arden Eight Hour Miracle Hydrating Mist for long-lasting, light hydration.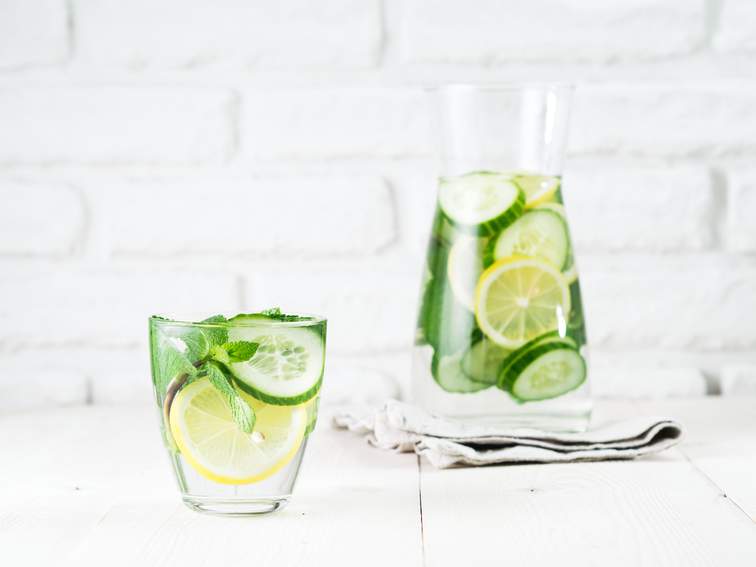 2. Ice Ice Baby
Alcohol is infamous for causing inflammation on both the inside and outside of our bodies. When puffiness strikes, be ready for it: arm yourself with a few ice cubes from the freezer and a thin muslin cloth. Simply place the ice cube inside the face cloth and gently press it against the inflamed parts of your face for instant relief and a calming sensation. Within minutes, you'll notice a more even complexion that looks and feels a whole lot better. We recommend using the Dr Hauschka Soft Muslin Face Cloth, as it is 100% natural and organic, certified to NATRUE standards.
Suffering from puffiness in a particular area, such as underneath the eye? Try on a treatment eye mask for size and watch them blitz away the appearance of dark circles. We love the STARSKIN Eye Catcher Smoothing Coconut Bio Cellulose Second Skin Eye Mask 2 Units to seriously combat that hungover appearance.
3. Mask It Up
Alcohol acts as a diuretic, forcing water out of the body and leaving it dehydrated. By passing urine more frequently (we all know what it's like to 'break the seal' too early on), you are stripping your body of vital hydration. Annoyingly, alcohol also makes it difficult to rehydrate too, meaning your skin is going to suffer from pretty severe dry skin. The answer? An incredibly hydrating and nourishing face mask, of course!
Choose a nutrient-rich mask to protect and restore moisture to the driest of skin. Aim to find a mask that contains fatty acids, nourishing natural oils and/or hyaluronic acid to really discover a noticeable difference. The GLAMGLOW THIRSTYMUD™ HYDRATING TREATMENT is perfect for quickly and noticeably tackling dehydrated skin, thanks to its potent ingredients. Upon contact, you can feel a cooling and tingling sensation which acts as a refreshing kick for tired, dull skin.
4. Befriend Your Vitamins
Become particularly pally with retinol (vitamin A). By drinking copious amounts of alcohol, you inhibit your skin's ability to regenerate new cells, which is why it's vital to give your skin a helping hand. Retinols encourage cell renewal, which in turn leave you with a newer and fresher appearance, making it a pretty important step. The PIXI Retinol Tonic is famous for its affordable price tag and working results, making it a must-have for your skin hangover.
5. Tone It Down
As you've probably already noticed, redness, irritation and blotchiness can arrive hand in hand with hangovers. Reduce that less-than-radiant redness with a creamy moisturiser that includes anti-inflammatory ingredients. A firm favourite is the Balance Me Balancing Face Moisturiser, as it contains sources that are rich in vitamins and essential fatty acids to help calm irritated skin. Wave goodbye to that unflattering flustered look and welcome in goddess-like skin. You're welcome.
Feeling a little better? Probably not completely, but stick to this skin-loving routine and you'll have glowing skin in no time. Now, to deal with that dodgy stomach…
For more skin care tips and advice, check out our favourite face masks for blackhead removal.