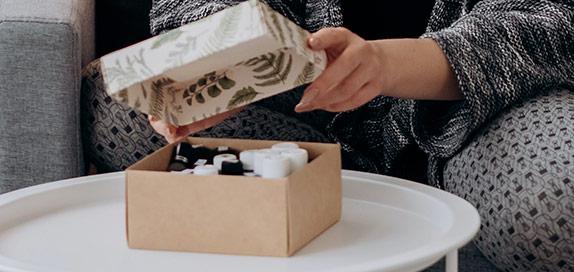 Beauty Subscription Boxes
Treat yourself to a monthly beauty box subscription, where skin care saviours, hair care heroes, makeup must-haves and more are delivered straight to your door.
If you're the type that gets excited every time a parcel shows up on your doorstep, then beauty box subscriptions will undoubtedly have you feeling like a kid on Christmas.
Monthly beauty box subscriptions are the ultimate treat to yourself. The latest trend for the beauty-obsessed sees a mixture of full and sample-sized skin, hair, cosmetics and wellness products delivered directly to your door. Whether you want to try before you buy, get clued up on the latest and greatest or simply spoil yourself each and every month, beauty boxes are the way to go!
Look Fantastic – starting from £13 a month
Look Fantastic deliver a beauty box that's worth every penny. Helping you keep up with new-season releases, the latest beauty trends and more, this subscription service features:
Over £50 worth of beauty treats packed into a fully sustainable and recyclable box
Six premium products that range from new launches to universal favourites and niche picks
A choice between a one, three, six or 12-month subscription plan
Access to exclusive tips and tricks, as well as the latest beauty trends
Limited edition boxes (previous collabs have featured brands such as Eve Lom, Living Proof and Molton Brown).
All you have to do is sign up, kick back and wait for your goodies to be delivered directly to your door.
Subscribe Now
Glossybox – from £11.75 a month
Glossybox is one of the UK's most trusted and most loved beauty boxes. Giving you so much more bang for your buck, the Glossybox subscription plan features:
Five full or deluxe-sized products from the world's best hair, skin and makeup brands
Themed boxes each month
The choice between a one-month rolling subscription or a three-, six- or 12-month plan
Dispatch on the 5th of every month so that you are always the first to try new trends, brands and products
Priority access to limited edition boxes, Glossy Credit, free samples, competitions, exclusive discounts, live Q&As and more when you subscribe
Your new beauty treats will always arrive in the signature pink Glossybox, unless they're limited edition, of course.
Subscribe Now
Birchbox – starting from £13.95 a month
Birchbox is arguably the most Insta-worthy subscription service on the market. Not only does each month boast a different theme, but your goodies are beautifully wrapped and presented in a keepsake box. For less than £15 a month, you can expect:
Five luxurious, sample-sized products worth at least £35
The option to tailor your box each month to suit your skin, hair and style needs.
Monthly, 3-monthly, 6-monthly and yearly subscription plans
An in-box menu that teaches you the latest tips, tricks and techniques
Access to limited-edition boxes, treats on your birthday, exclusive offers and competitions
Subscribe Now
FFS Beauty – from £6.95 a month
Here's the deal: throw your old, blunt razors in the bin and Friction Free Shaving will send fresh blades each month, straight to your doorstep. Sounds good, right?
Friction Free Shaving, also known as FFS, is the brand waving bye-bye to razor rash and ingrown hairs and saying hello to smooth pits and bits. Their innovative subscription service equips you with a luxe metal razor (which can be engraved if you're feeling fancy) and a pack of four diamond-coated blades that are replaced on a monthly basis. Other benefits of this stellar service include:
Flexible deliveries that match your lifestyle. Simply tell FFS how often you shave, and they'll design a razor subscription that suits you.
The choice between a trial razor set for £6.95 a month or a premium razor set for £9.95 a month
The option to switch out razor blades for other products in their range, such as shaving creams, scrubs and wax strips
Subscribe Now
Roccabox – starting from £10 a month
Serving up brands like Huda Beauty, Living Proof, NIP + FAB and Smashbox, Roccabox is the affordable way to test and trial trending products before buying them full-size. This pocket-friendly beauty box comes in at just £10 a month, with the chance to save money if you sign up for longer! It's unquestionably the best value for money subscription, so let's breakdown what you'll receive each month:
A box containing five to seven of the hottest beauty products across makeup, skincare, haircare and body care.
Fun, themed boxes each month – previous have included GRLPWR, Vegan Love and Get the Glow.
A 'pay-as-you-go' rolling subscription, where you're charged every month. Or, you can opt for a 3, 6 or 12-month contract paid upfront.
No commitment – you can cancel anytime!
Subscribe Now
Skin + Me - £19.99 a month
Personalised skincare, prescribed just for you, delivered straight to your door. Skin + Me are the subscription service helping you achieve your skin goals.
The system is super easy; you simply list your concerns, send in a snap of your skin and a team of qualified dermatologists will put together a personalised regime for you each month. The best part? It's completely affordable. For £19.99 a month, you'll receive:
Access to experts and qualified dermatologists
A tailormade plan and products that provide visible results, delivered to your door each month
Regular check-ins to assess your skin's progress and to readjust your regime
The option to cancel or restart online, anytime
Subscribe Now
Beauty Pie – starting from £5 a month
Take this as your sign to subscribe to Beauty Pie, ASAP. This members-only beauty club gives you exclusive access to a huge collection of high-quality beauty, without the luxury markup. That means you can get your hands on the likes of Italian lipsticks, Japanese serums and Swiss 'oxygen' facials, all for a fraction of the price.When it comes to picking your membership, you can choose from three tiers:
£5 a month allows you to shop up to £50 of Beauty Pie's luxury beauty products
£10 a month equals a £100 spending limit
£20 a month gives you £200 to splash
Plus, you'll get a £100 bonus allowance on sign-up, so you can overhaul your entire beauty collection in one go!
Subscribe Now
What are beauty boxes?
Beauty boxes are one of the best ways to test out the latest and greatest products in skin, hair, makeup and more. Subscription-based beauty boxes typically follow the same routine – you pay a monthly fee and in return, a collection of carefully curated beauty samples are sent directly to your door.
If you're not willing to commit to a monthly subscription, some beauty box suppliers create boxes, such as limited-edition boxes, that can be purchased as a one-off.
What do you get inside a beauty box?
What you receive inside a beauty box completely depends on the supplier you choose. Typically, beauty boxes include a selection of makeup, skin, hair, body, fragrance and wellness products from both luxurious and budget-friendly brands. The products change each month, so you can always look forward to testing and trialling a bunch of new beauty treats.
Which beauty box is the best?
Personal preference, budget, value for money and the type of products you wish to receive each month are all factors to take into account when determining the best beauty box.
Birchbox, Glossybox, Look Fantastic and FabFitFun are some of the best-selling boxes in the UK, loved by beauty aficionados, editors and celebs alike.
Where can you get beauty boxes in the UK?
If you're living in the UK, beauty boxes are mostly accessible online. If you know exactly which beauty box you want, you can head directly to the supplier's website and set up a monthly subscription from there.
If you're still unsure, Cosmetify has rounded up some of the best beauty boxes in the UK, so that you can do all of your research before committing.
Are beauty boxes worth it?
Not only are beauty boxes the perfect present from yourself to yourself, they're also a good way to discover the world of beauty and expand your collection.
Some beauty boxes are priced at as little as £10 a month and often include a few full-sized products, making them great value for money. The smaller-sized products allow you to test out new formulas before splurging on the big size.
Are there beauty boxes for men?
Yes! Men can indulge in a beauty box each month too, as many brands and retailers are beginning to pack together the best grooming products and gadgets and deliver them to your door.
Discover beauty boxes that offer monthly shaving subscriptions as well as grooming routines, skin regimes and more. We particularly love Birchbox Grooming for men and Harry's Shaving.